In the womb, all fetuses have a foramen ovale (Latin for "oval hole") between the heart's right and left upper chambers (atria). This opening allows blood to take a shortcut within the heart rather than following a longer path through the lungs, which cannot work until they are exposed to air. After birth, when a newborn baby takes his or her first breath, the foramen ovale begins to close. Most of the time, it seals completely within a few months.
But in about a quarter of people, that doesn't happen. This anatomical variation is called a patent foramen ovale (patent means open) or PFO. Most people never know they have it, because a PFO doesn't cause any signs or symptoms. For the most part, the condition is harmless.
But in people with a PFO, venous blood can leak (or "shunt") across the heart from the right atrium to the left atrium (see illustration). "Clots from veins can travel through this 'back door' and go on to the brain, causing strokes," says neurologist Dr. MingMing Ning, a PFO specialist who co-directs the Cardio-Neurology Division at Harvard-affiliated Massachusetts General Hospital. This is not uncommon and may account for as many as one in 10 strokes.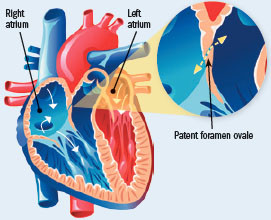 About one in four people has a patent foramen ovale, a flaplike opening between the heart's right and left atria.
Different causes for strokes
Most ischemic strokes (those caused by a clot that blocks a vessel in or leading to the brain) occur in people who have high blood pressure, diabetes, and other known causes that put them at risk for both heart attacks and strokes. However, about 20% to 30% of strokes (historically designated "cryptogenic," meaning hidden) seem to occur without any obvious explanation. Many stroke experts now say that about half of such strokes should be reclassified as "PFO-associated strokes."
Establishing this new cause for strokes is important to better predict and prevent them, Dr. Ning says. "It's frustrating for me, but it's devastating for my patients, because we only look for and find a PFO after a stroke happens," she says.
Plugging the PFO
For many years, the evidence about whether to repair the PFO to prevent future strokes in these patients was inconclusive. But in 2017, three multicenter trials found that a minimally invasive procedure to close a PFO lowers the likelihood of another stroke better than drug therapy.
Earlier this year, the American Academy of Neurology updated its advice on the matter, suggesting that clinicians may recommend PFO closure for people younger than 60 who experience a stroke with no other obvious cause. "This update is a step in the right direction, but we still have a lot to learn about PFOs," says Dr. Ning. This will require collaboration between cardiologists, neurologists, hematologists, and primary care providers, she adds.
She and colleagues suspect that by allowing "dirty" blood from the veins to avoid being filtered by the lungs, a PFO may encourage clots to form throughout the body, as well as letting them through to the brain. "I think of the lungs as silent heroes, because they trap and filter clot-activating debris, such as homocysteine, in the blood," she says. If a person with a PFO has other factors that increase clot formation, it's like a one-two punch.
These other factors include uncommon genetic conditions such as protein C/S deficiency, factor V Leiden, and others. Additional conditions that raise clot risk include obesity, sleep apnea, and pregnancy; so does long-distance travel and other situations that involve long periods of immobility. For people in those situations, extra precautions (including treatment, when possible) are crucial to help prevent strokes, says Dr. Ning.
Ideally, future discoveries will help pinpoint those people who might benefit from PFO closure, anti-clotting medications, or both. To that end, Dr. Ning is carrying out a study that relies on proteomics — which involves checking blood for unique "fingerprints" — to predict PFO risk and monitor treatment. Currently, a PFO-associated stroke is a diagnosis of exclusion, meaning it is only diagnosed when other obvious causes of stroke have been ruled out. "But I hope that PFO will eventually be included with other traditional risk factors for stroke, making it a diagnosis of inclusion rather than exclusion," she says.
Bible verses for today's meditation and inspiration: Matthew E. McLaren
"Finally, brothers and sisters, whatever is true, whatever is noble, whatever is right, whatever is pure, whatever is lovely, whatever is admirable–if anything is excellent or praiseworthy–think about such things." – Philippians 4:8
"Therefore I tell you, whatever you ask for in prayer, believe that you have received it, and it will be yours." – Mark 11:24
"Anxiety weighs down the heart, but a kind word cheers it up." – Proverbs 12:25
"Who of you by worrying can add a single hour to your life?" – Luke 12:25
"For I know the plans I have for you, declares the Lord, plans for welfare and not for evil, to give you a future and a hope." – Jeremiah 29:11
"If you, then, though you are evil, know how to give good gifts to your children, how much more will your Father in heaven give good gifts to those who ask him!" – Matthew 7:11
 "A cheerful heart is good medicine, but a crushed spirit dries up the bones." – Proverbs 17:22
Recommended contacts for prayer request and Bible study
https://www.hopechannel.com/au/learn/courses
https://3abn.org/all-streams/3abn.html
http://www.nadadventist.org/article/15/contact-us
https://www.adventist.org/en/utility/contact/