About two decades ago, cardiologists began to realize that the classic view of heart disease as a simple plumbing problem was incomplete. The underlying mechanism is atherosclerosis — the accumulation of fatty plaque inside artery walls. But plaque doesn't just gradually build up and eventually close off an artery, causing a heart attack. Instead, most heart attacks happen when smaller, inflamed plaques rupture suddenly, triggering a blood clot that blocks blood flow (see "From healthy artery to heart attack").
In recent years, new imaging techniques have revealed a more nuanced view of the natural progression of atherosclerosis, as described in a review article in the Aug. 27, 2020, New England Journal of Medicine. Some plaques rupture but then heal, forming a focal, stable swelling inside the artery. Other plaques rupture but then fail to heal — they're the ones to worry about.
"Conventional imaging tests don't show where the most dangerous, inflamed plaques are located," says Harvard Medical School professor Dr. Peter Stone, a cardiologist at Brigham and Women's Hospital. These plaques are visible with optical coherence tomography (which uses near-infrared light) or intravascular ultrasound (which uses sound waves), either of which can create images of the inside of the coronary arteries. Some doctors use these specialized techniques when placing artery-opening stents. But the techniques can also help researchers understand where plaque forms and why it destabilizes and causes a heart attack.
From healthy artery to heart attackStage 1: Excess LDL passes through the artery.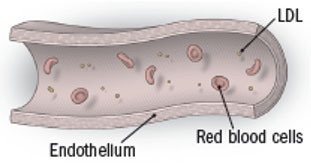 Cholesterol travels in the bloodstream in particles called lipoproteins. About two-thirds of blood cholesterol is in the form of low-density lipoprotein (LDL), or "bad" cholesterol. Excess LDL leaves the blood and lodges in the artery walls.Stage 2: Plaque builds up and the artery narrows.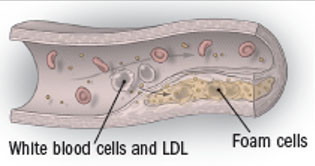 Any injury to the inner layer of cells lining the artery (caused by high blood pressure, smoking, or diabetes, for example) hastens the buildup of arterial deposits. White blood cells arrive on the scene and engulf LDL cholesterol. These cells then enlarge and transform into fat-laden foam cells.Stage 3: A fibrous cap tops the plaque.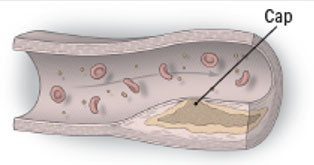 As foam cells die, they release soft, fatty gruel that provokes further inflammation. Smooth muscle cells in the artery wall form a cap over the interior buildup and add to the bulk of the plaque. The bigger the plaque, the more blood flow is restricted.Stage 4: The plaque ruptures.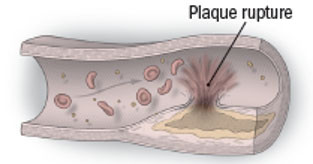 Large plaques tend to be covered by thick, fibrous caps that may resist breaking apart. Smaller plaques may be too small to block blood flow and usually do not show up during a cardiac stress test. However, they may have thin, underdeveloped caps that rupture easily. At least half of all heart attacks occur because of plaque rupture.Stage 5: A clot blocks the artery.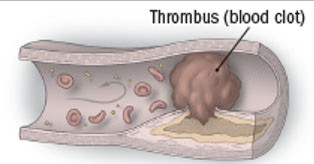 Once a plaque ruptures, platelets congregate at the site, starting the clotting process. The result is a thrombus — a clot of red blood cells, platelets, and other material — that completes the blockage and prevents blood from reaching the heart. Deprived of blood and oxygen, a portion of the heart muscle dies.Illustrations by Scott Leighton
The ischemia hypothesis
For some 40 years, cardiologists have used stents or bypass surgery to treat large plaques that cause ischemia (inadequate blood flow to the heart muscle). "The thinking was, if you can identify the obstructive culprit plaque causing the ischemia, you should fix it," says Dr. Stone. This fix may relieve chest discomfort caused by the diminished blood flow, known as angina. But are there other, longer-term benefits, such as fewer heart attacks or a longer life?
Some earlier trials suggested the answer was no. However, those trials didn't include many people with more serious forms of ischemia. In theory, those people might benefit more from a procedure to treat a narrowed artery than people with milder ischemia.
Earlier this year, a major international trial called ISCHEMIA addressed this question head-on by enrolling people who had moderate to severe ischemia as documented by a stress test. These tests, which closely monitor your heart while under stress from exercise or a medication, can suggest the presence and severity of narrowed arteries.
About half of the 5,179 people in the study were randomized to receive only medication to lower blood pressure and cholesterol and prevent blood clots. The other half got the same drug therapy as well as angio-graphy, an imaging test that uses a special x-ray and dye to reveal blockages in the heart's arteries. Any serious artery blockages were treated with artery-opening stents or a coronary artery bypass operation.
After five years, there were no clear differences in the risk of heart attack, stroke, or death from any cause between the two groups. The study appeared April 9, 2020, in The New England Journal of Medicine.
Obstructive but stable?
In showing that treating these sizable blockages did nothing to ward off heart attack or stroke, the ISCHEMIA findings underscored the risks posed by the smaller lesions that aren't routinely identified or treated. "This study turned the whole ischemia hypothesis upside down," says Dr. Stone. The results suggests that obstructive plaque may be healed and stable. It may be unlikely to rupture and cause a heart attack, which is why fixing those areas doesn't appear to offer protection, he explains. "The really dangerous plaques may be either upstream or downstream from the obstructive plaque, or in one of the heart's other arteries, even in the absence of an obstruction," he says.
What does this mean for people with angina or who have had a stress test that suggests a potentially serious blockage? Be vigilant about lifestyle changes that lower your risk of atherosclerosis, such as exercising regularly and eating a mostly plant-based diet. Work closely with your doctor to optimize your medication regimen, which should include drugs to keep your cholesterol, blood pressure, and blood sugar levels in a healthy range, and possibly clot-preventing drugs. Invasive treatments (stents and bypass surgery) should be reserved for people who experience severe angina that can't be managed with medications, and for those having symptoms even while at rest or having a heart attack.
Bible verses for today's meditation and inspiration: Matthew E. McLaren
1 Corinthians 13:1-13 If I speak in the tongues of men and of angels, but have not love, I am a noisy gong or a clanging cymbal. And if I have prophetic powers, and understand all mysteries and all knowledge, and if I have all faith, so as to remove mountains, but have not love, I am nothing. If I give away all I have, and if I deliver up my body to be burned, but have not love, I gain nothing. Love is patient and kind; love does not envy or boast; it is not arrogant or rude. It does not insist on its own way; it is not irritable or resentful; …
Luke 11:28 But he said, "Blessed rather are those who hear the word of God and keep it!"
James 1:2 Count it all joy, my brothers, when you meet trials of various kinds,
Ecclesiastes 7:14 In the day of prosperity be joyful, and in the day of adversity consider: God has made the one as well as the other, so that man may not find out anything that will be after him.
1 Corinthians 13:4 Love is patient and kind; love does not envy or boast; it is not arrogant
Micah 6:8 He has told you, O man, what is good; and what does the LORD require of you but to do justice, and to love kindness, and to walk humbly with your God?
Recommended contacts for prayer request and Bible study
https://www.hopechannel.com/au/learn/courses
https://3abn.org/all-streams/3abn.html
http://www.nadadventist.org/article/15/contact-us
https://www.adventist.org/en/utility/contact