A golf ball to ease foot pain? A kids' playground ball to recover from a knee injury? The combinations may sound foreign, but they're familiar approaches in the world of physical therapy. Here's how these tools of the trade (and the toy box) can help you.
A playground ball
This is the kind of inexpensive rubber or plastic ball (less than $10) you'll find at a grocery or big-box store. It's about the size of a soccer ball, but lighter. "We commonly use that type of ball for knee rehabilitation. We'll have someone do mini squats against the wall with the ball between the knees. Squeezing the ball strengthens the quadriceps muscles," explains Clare Safran-Norton, clinical supervisor of rehabilitation -services at Harvard-affiliated Brigham and Women's Hospital.
You can also squeeze this ball between your knees during bridge exercises (as you lie on your back and lift your hips off the floor), which strengthen the gluteal muscles in the buttocks.
Or you might use the ball to work your shoulders: Face a wall with your arm extended, pressing the ball against the wall with your hand. Move your hand in small circles, rolling the ball against the wall. "That helps strengthen and add stability to your shoulder muscles," Safran-Norton says.
Even a game of catch with this type of ball is good for improving your balance and agility. "You have to reach up, down, right, or left. You can do it while standing or sitting and at varying speeds," Safran-Norton says.
An exercise ball
An exercise or stability ball is a very large, inflatable plastic ball used for balance, stability, and strengthening. "This ball creates a moving, challenging environment. We'll often put someone on the ball once they've learned an exercise and they're good at it," -Safran-Norton says.
Sitting and steadying yourself on the ball improves your core and balance. So does placing your shins on the ball as you do push-ups, or lying on your back on the floor, putting your feet up on the ball, and then lifting your hips off the ground.
You can strengthen your back, core, and balance by doing a "bird dog" exercise on the ball. "You lie facedown on top of the ball and then extend your right arm and left leg for a few seconds. Then switch and extend your left arm and right leg," Safran-Norton says.
Exercise balls come in diameters ranging from 55 to 75 centimeters. Choose yours based on your height (the taller you are, the bigger the exercise ball). The balls cost $10 to $20.
Try this exercise: Seated knee lift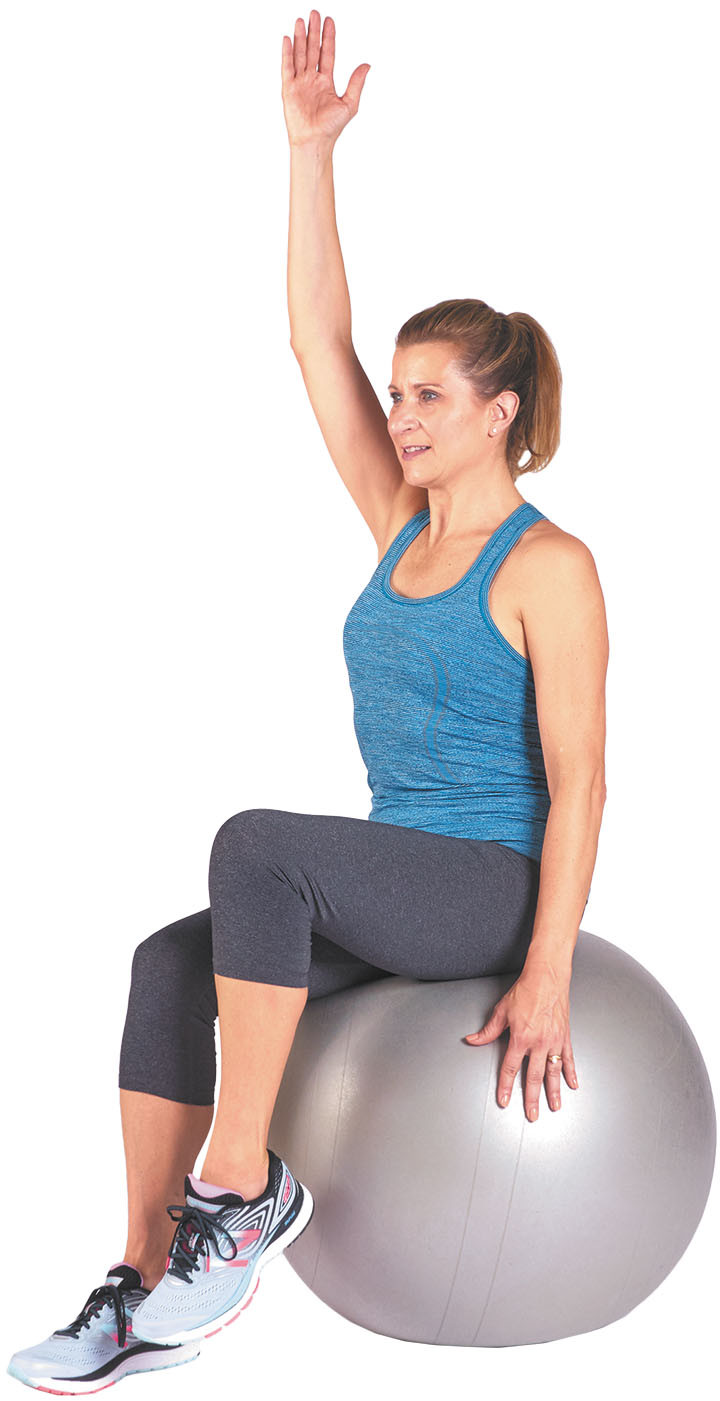 Sit on the stability ball. Rest your hands at your sides on the ball.Exhale as you lift your left knee and right hand straight toward the ceiling. Return to the starting position.Do this 10 times and then switch sides, lifting your right knee and raising your left hand 10 times.
A tennis ball
A tennis ball (or a rubber ball that's about the same size) is great for two types of recovery exercises. One is for the back. "Take two tennis balls, put them in a sock, tie the end, and lie on top of it," Safran-Norton advises. "You want to roll up and down against it with one ball on either side of the spine. It relaxes the joints of the spine and increases your flexibility."
Using a tennis ball can also help relieve buttocks pain from piriformis syndrome. That's pain caused when the piriformis muscle (deep in the buttocks) gets overstretched from too much sitting and irritates the sciatic nerve running through the muscle. "Just sit on the tennis ball while you're on a chair or on the floor and roll on top of the ball where there's tenderness. The exercise works like a deep tissue massage, with your own body weight applying the pressure," Safran-Norton notes.
Prices for a canister of three tennis balls start at about $5.
A golf ball
A golf ball is good for foot pain, especially plantar fasciitis — an inflammation of the fibrous tissue that supports the arch of the foot.
"We have people sit in a chair, put the arch of their foot on top of the ball, and roll their foot over it," Safran-Norton says. "Because the ball is hard and small, it gets to the smaller muscles and breaks up scar tissue."
Don't spend a lot of money on fancy golf balls; you'll find a package of basic ones for about $10 at a big-box store.
Lacrosse ball
A small, hard, rubber lacrosse ball helps relieve pain in the iliotibial (IT) band — a long band of connective tissue that runs from the knee to the hip. The tissue merges with the gluteal muscles to stabilize the leg and can become irritated from too much walking or running.
"Stand with your side against the wall and lean against the lacrosse ball. Move up and down against the ball as a way to massage the IT band and leg muscles," Safran-Norton says.
Big-box stores are a good source for lacrosse balls. Prices start at $10 or less.
Try this exercise: Ball squeeze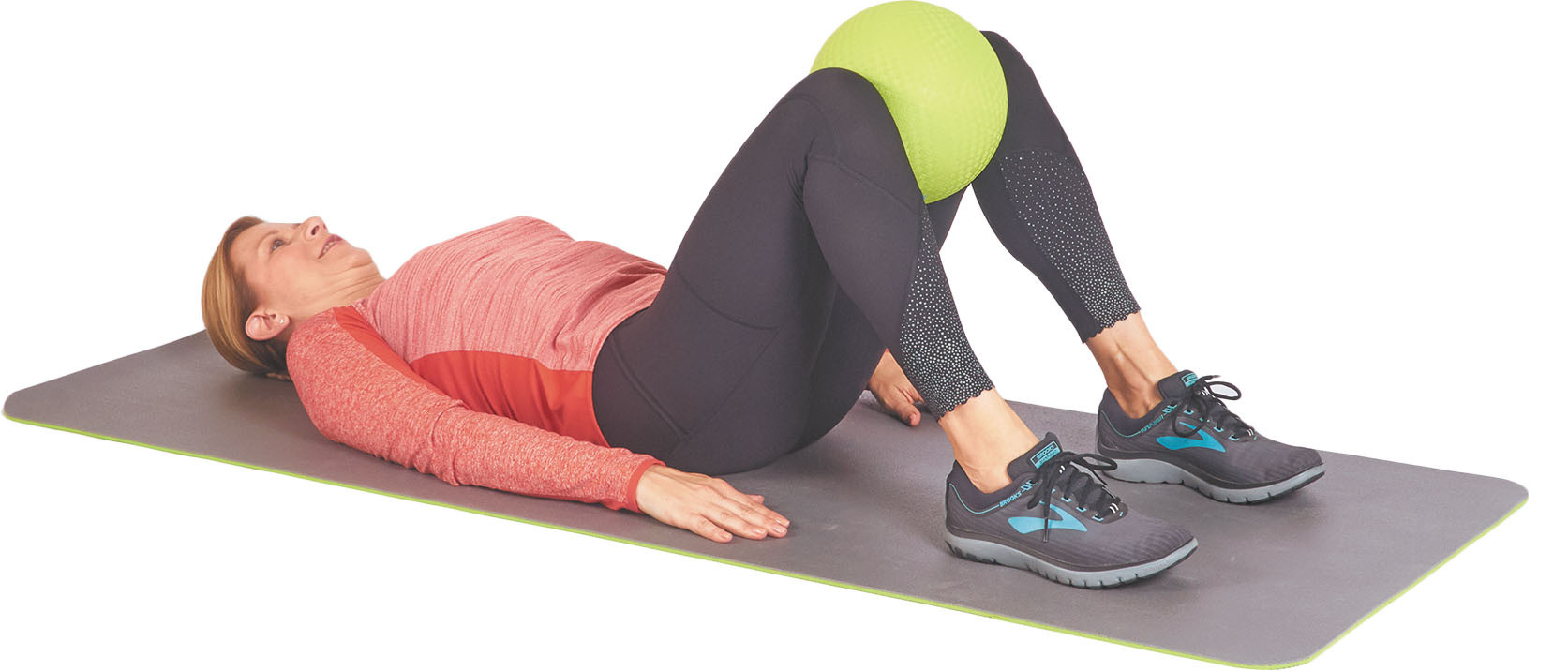 Lie on your back with your knees bent and feet flat on the floor. Put a small ball between your knees. Place your arms at your sides.Tighten your abdominal muscles. Squeeze your knees together against the ball. Hold, then release. Do this move eight to 10 times.
Before you try it
Because of fall risks, it's best to get instruction from a physical therapist or certified personal trainer before using a ball for recovery or pain reduction, especially if you've been injured, have poor balance, or have neuropathy and can't feel the ball with your legs or feet.
People with brittle bones should avoid using a tennis, golf, or lacrosse ball along their back or ribs. "The balls can put too much pressure on the spine and possibly cause a compression fracture," Safran-Norton says.
But with instruction and a green light for use, a ball can add a playful and challenging element to recovery.
Bible verses for today's meditation and inspiration: Matthew E. McLaren
And so we know and rely on the love God has for us. God is love. Whoever lives in love lives in God, and God in them. 1 John 4:16 NIV
Be completely humble and gentle; be patient, bearing with one another in love. Ephesians 4:2 NIV
We love because He first loved us. 1 John 4:19 NIV
Above all, love each other deeply, because love covers over a multitude of sins. 1 Peter 4:8 NIV
I pray that out of his glorious riches he may strengthen you with power through his Spirit in your inner being, so that Christ may dwell in your hearts through faith. And I pray that you, being rooted and established in love. Ephesians 3:16-17 NIV
And now these three remain: faith, hope and love. But the greatest of these is love. 1 Corinthians 13:13 NIV
Love must be sincere. Hate what is evil; cling to what is good. Romans 12:9 NIV
If I have the gift of prophecy and can fathom all mysteries and all knowledge, and if I have a faith that can move mountains, but do not have love, I am nothing. 1 Corinthians 13:2 NIV
Recommended contacts for prayer request and Bible study
https://www.hopechannel.com/au/learn/courses
https://3abn.org/all-streams/3abn.html
http://www.nadadventist.org/article/15/contact-us
https://www.adventist.org/en/utility/contact/