When doctors treat older people with high blood pressure, they often worry about a condition that causes blood pressure to plummet when a person stands up from a seated or lying position. Known as orthostatic hypotension (hypotension means low blood pressure), it affects as many as one in five people ages 65 and older.
Because orthostatic hypotension can make you feel dizzy or lightheaded after standing, it may lead to fainting and falls — with possibly serious repercussions. This concern leads some doctors to ease up on prescribed blood pressure medications. But a new study suggests that practice actually might do more harm than good.
"It may sound counterintuitive, but we found that people who received more intensive blood pressure treatment were less likely to have orthostatic hypotension than people who got less aggressive treatment," says study lead author Dr. Stephen Juraschek, an internist at Harvard-affiliated Beth Israel Deaconess Medical Center.
Pressure drop
The study, published online Sept. 10, 2020, by Annals of Internal Medicine, pooled data from five separate trials that included more than 18,000 adults treated for high blood pressure. The researchers defined orthostatic hypotension as a decrease in systolic pressure (the first number of a blood pressure reading) of at least 20 points or a decrease in diastolic pressure (the second number) of at least 10 points when measured within three minutes after standing up from a seated position.
When people are diagnosed with orthostatic hypotension, especially if it causes dizziness, it's understandable for doctors to be tempted to reduce the person's blood pressure medication, Dr. Juraschek notes. However, other causes such as dehydration or an infection actually may be to blame, especially among people who've been treated for blood pressure for a while, he says. In addition, several diseases, including diabetes, cancer, and Parkinson's disease, can also contribute to orthostatic hypotension.
Why better control may matter
Dr. Juraschek and colleagues speculate that intensive blood pressure control helps prevent orthostatic hypotension by keeping the entire cardiovascular system healthy and functioning well — particularly the baroreceptors, which help regulate blood pressure (see "The regulatory role of baroreceptors"). For most people, an ideal blood pressure is less than 120/80 millimeters of mercury (mm Hg). Reaching and staying at that goal can help prevent the damaging effects of high blood pressure, which include stiff arteries and an enlarged, weak left ventricle (the heart's main pumping chamber). "Those problems can make orthostatic hypotension worse," says Dr. Juraschek.
The regulatory role of baroreceptors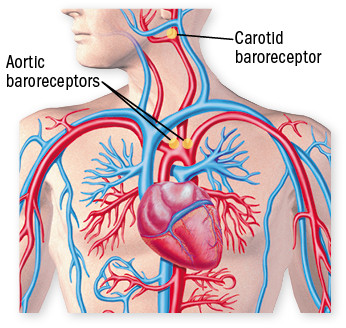 Special receptors located above the heart and in the neck help your body regulate blood pressure. These baroreceptors (baro refers to pressure) activate nerve and hormonal signals in the body. When blood pressure falls, the signals tell your heart to beat stronger and faster while narrowing your blood vessels. When blood pressure rises, they do the opposite. The system becomes less sensitive with age, which is why orthostatic hypotension — a sharp drop in blood pressure upon standing — becomes more common as people grow older.Image: © leonello/Getty Images
Coping with orthostatic hypotension
Feeling dizzy or lightheaded after standing happens to most people once in a while and is usually no cause for concern. But if it happens more frequently, ask your doctor to check you for orthostatic hypotension.
If you've started treatment recently for a high blood pressure diagnosis, you may feel lightheaded while your body adjusts to the medication, says Dr. Juraschek. But if you have orthostatic hypotension and have been taking blood pressure drugs for a while, those medications might not be the problem but rather part of the solution.
To help prevent episodes of low blood pressure, these strategies may help:
Don't forget fluids. Drink water throughout the day; don't wait until you're thirsty. But avoid alcohol, which can cause you to become dehydrated.
Support your legs. Compression stockings that squeeze the legs may help. Thigh-high or waist-high versions are best, because knee-high stockings may bunch and tighten, cutting off blood flow.
Take care when rising. Getting out of bed is a common trigger, so pump your legs up and down a few times while still sitting on the edge of your bed to get your blood flowing before you stand up. During the day, try crossing your legs if you feel faint while standing.
Bible verses for today's meditation and inspiration: Matthew E. McLaren'
Then you will call on me and come and pray to me, and I will listen to you. Jeremiah 29:12 NIV
Be joyful in hope, patient in affliction, faithful in prayer. Romans 12:12 NIV
And when you pray, do not keep on babbling like pagans, for they think they will be heard because of their many words. Matthew 6:7 NIV
The Lord is near to all who call on him, to all who call on him in truth. Psalm 145:18 NIV
'Call to me and I will answer you and tell you great and unsearchable things you do not know.' Jeremiah 33:3 NIV
"For where two or three gather in my name, there am I with them." Matthew 18:20 NIV
Let us then approach God's throne of grace with confidence, so that we may receive mercy and find grace to help us in our time of need. Hebrews 4:16 NIV
who is unseen. Then your Father, who sees what is done in secret, will reward you. Matthew 6:6 NIV
Recommended contacts for prayer request and Bible study
https://www.hopechannel.com/au/learn/courses
http://www.nadadventist.org/article/15/contact-us
https://3abn.org/all-streams/3abn.html
https://www.adventist.org/en/utility/contact/