As men age, they often experience a new kind of growth spurt, known as benign prostatic hyperplasia (BPH) or an enlarged prostate gland.
Your prostate is located just below the bladder. Over time, it can grow from about the size of a walnut to as large as a lemon. It weighs about 30 to 35 grams in your 50s, but can balloon to as much as 100 grams. A growing prostate can place pressure on the urethra, the tube that carries urine from the bladder through the penis and out of the body (see image).
This can lead to all kinds of urination problems. The most common are trouble beginning to urinate, dribbling, and the feeling that you have not fully emptied your bladder. Urine that doesn't get expelled and collects in the bladder may be prone to becoming infected. You also may make extra bathroom trips, especially at night, and even potentially lose bladder control.
"While BPH won't raise your prostate cancer risk or necessarily lead to serious sexual problems, it can cause bothersome urination problems," says Dr. Martin Kathrins, a urologist with Harvard-affiliated Brigham and Women's Hospital.
Benign prostatic hyperplasia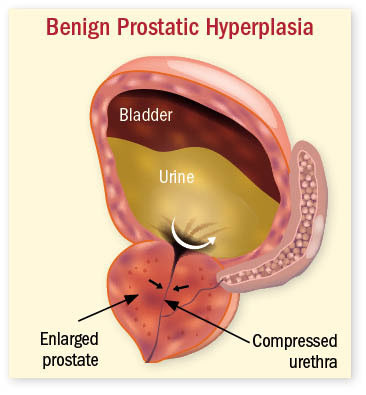 Drugs of choice
The first line of treatment for BPH is lifestyle changes to help manage symptoms. These include maintaining a healthy weight, avoiding medications like antihistamines and decongestants, adopting a healthy diet, and limiting caffeine, which can irritate the bladder and increase urination frequency.
If these are not helpful, medication may be needed. Drugs help manage symptoms or shrink the prostate. There are two main classes: alpha blockers and 5-alpha-reductase inhibitors (5ARIs). Your doctor may prescribe one or both types, depending on your symptoms.
Alpha blockers. These relax the muscles around the prostate and bladder neck so urine flows more easily. Symptoms often improve within a few days. They are most effective for men with mild to moderate prostate enlargement. The common drugs include tamsulosin (Flomax), alfuzosin (Uroxatral), and silodosin (Rapaflo).
5ARIs. These shrink the prostate, so it puts less pressure on the urethra. They can reduce the prostate's size by one-fifth or more after six months, which is usually sufficient shrinkage to improve symptoms. The two drugs often prescribed are finasteride (Proscar) and dutasteride (Avodart).
"Low daily doses of the erectile dysfunction drug tadalafil [Cialis] also have shown to help with BPH symptoms," says Dr. Kathrins.
It may take time for men to notice improvement with these drugs, so doctors recommend sticking with them for about three months. But sometimes medication is not enough.
"For some men, drugs simply don't work, or they have trouble taking them as required," says Dr. Kathrins. "In these cases, minimally invasive surgery may be helpful."
Know your options
Surgical procedures can treat BPH in three ways: remove excess prostate tissue that disrupts the flow of urine, adjust the position of the prostate so it's no longer obstructive, or shrink the prostate. Procedures last about one to two hours. Some can be performed in the office or a surgical center, while others require a short hospital stay. "Depending on the procedure, most men can see improvements in their symptoms in a few weeks, on average," says Dr. Kathrins.
There are possible side effects to BPH surgery. Some men experience short-term erectile dysfunction, although this could become an ongoing problem. Another potential issue is retrograde ejaculation, where semen discharges into the bladder instead of out through the penis. "This may bother some men, even though it doesn't affect sexual performance and is often the cost of surgically treating an enlarged prostate," says Dr. Kathrins.
The type of surgery you need depends on several factors, such as your prostate's size and shape and your comfort level. (Your doctor can use a digital rectal exam, ultrasound, or MRI of the pelvis to find out the size and shape.) Here's a look at the most common choices, as well as some new options. Talk with your urologist about which one is best for you.
Transurethral resection of the prostate (TURP). TURP is the go-to surgery for BPH and treats a broad range of prostate sizes — from 30 grams to 100 grams. Here, an instrument called a resectoscope, which contains a light and an electrical loop for both cutting tissue and sealing blood vessels, is inserted into the urethra via the penis. The surgeon then uses the wire loop to hollow out the enlarged tissue blocking the urethra and impeding urine flow. Most men need a catheter for a few days to urinate.
Vaporization. These approaches, which are also suitable for medium-range prostate sizes, include photo-selective vaporization of the prostate (PVP) and bipolar plasma vaporization (BPV). PVP uses a high-powered laser to vaporize prostate tissue. BPV uses energy to heat a button-shaped electrode that destroys the excess tissue. Both options are less invasive than TURP and have a quicker recovery time. "Some men experience more irritative symptoms after this surgery compared with TURP," says Dr. Kathrins.
Holmium laser enucleation of the prostate (HoLEP). HoLEP helps with larger prostates (60 grams or more). It involves using a tiny laser threaded through the urethra to destroy excess prostate tissue. The procedure usually causes minor bleeding and has a relatively fast recovery time. However, it's not available everywhere.
Prostatic urethral lift. This procedure, known by the trade name UroLift, is often used on prostates 30 grams to 80 grams in size. The doctor passes small implants through the urethra and places them in the prostate so that they pull back on the obstructive tissue and hold it out of the way. UroLift's advantage is that it tends to reduce the risk of erectile dysfunction and retrograde ejaculation.
Water vapor thermal therapy. For this procedure, known by the trade name Rezum, the doctor inserts a tool with an attached camera through the urethra into the prostate, where it delivers small amounts of steam. The steam damages the obstructing tissue cells and shrinks the prostate. "This procedure is used for similar size ranges as UroLift and limits the risk of sexual side effects after surgery," says Dr. Kathrins.
Aquablation. This procedure, which uses a robotically controlled water jet to remove excess tissue, is often a choice for prostates larger than 80 grams. Aquablation has been found to limit the risk of sexual side effects compared with TURP, but it is not widely available.
Prostate artery embolization (PAE). The FDA approved PAE for use in the United States in 2018, although Europeans have used it for years. A small catheter is inserted into the upper thigh or wrist and threaded into the arteries that supply blood to the prostate. Using the catheter, the doctor deposits small particles into the arteries, where they partially block blood flow. This will eventually cause the prostate to shrink.
The advantage of PAE is that it's an outpatient procedure and has a lower risk of causing erectile dysfunction. However, the American Urological Association, citing a lack of supporting studies, has not yet endorsed it.
"Depending on the initial procedure a man chooses, he may need another surgery later," says Dr. Kathrins. "Some men will continue to take a 5ARI indefinitely to reduce the risk that the prostate will regrow."
Also, keep in mind that surgery won't completely improve all urinary problems, and you need to have some realistic expectations. "Your doctor can explain what to expect so you can prepare for the outcome," says Dr. Kathrins.
For more information on BPH and other prostate problems, read the 2021 Annual Report on Prostate Diseases from Harvard Health Publishing, available at /prostate.
Bible verses for today's meditation and inspiration: Matthew E. McLaren
2 Corinthians 13:9 For we rejoice when we ourselves are weak but you are strong; this we also pray for, that you be made complete.
Colossians 1:28 We proclaim Him, admonishing every man and teaching every man with all wisdom, so that we may present every man complete in Christ.
Colossians 4:12 Epaphras, who is one of your number, a bondslave of Jesus Christ, sends you his greetings, always laboring earnestly for you in his prayers, that you may stand perfect and fully assured in all the will of God.
2 Corinthians 10:15-16 not boasting beyond our measure, that is, in other men's labors, but with the hope that as your faith grows, we will be, within our sphere, enlarged even more by you, so as to preach the gospel even to the regions beyond you, and not to boast in what has been accomplished in the sphere of another.
2 Thessalonians 1:3 We ought always to give thanks to God for you, brethren, as is only fitting, because your faith is greatly enlarged, and the love of each one of you toward one another grows ever greater;
2 Peter 3:18 but grow in the grace and knowledge of our Lord and Savior Jesus Christ To Him be the glory, both now and to the day of eternity. Amen.
Ephesians 1:17-18 that the God of our Lord Jesus Christ, the Father of glory, may give to you a spirit of wisdom and of revelation in the knowledge of Him. I pray that the eyes of your heart may be enlightened, so that you will know what is the hope of His calling, what are the riches of the glory of His inheritance in the saints,
Ephesians 3:16-19 that He would grant you, according to the riches of His glory, to be strengthened with power through His Spirit in the inner man, so that Christ may dwell in your hearts through faith; and that you, being rooted and grounded in love, may be able to comprehend with all the saints what is the breadth and length and height and depth, read more
Recommended contacts for prayer request and Bible study
https://www.hopechannel.com/au/learn/courses
https://3abn.org/all-streams/3abn.html
http://www.nadadventist.org/article/15/contact-us
https://www.adventist.org/en/utility/contact/