Humans can live for about three weeks without food, but they can last only three or four days without water.
Even though the liquid is essential for life, an estimated 40% of seniors are chronically underhydrated, and adults ages 65 and older have the highest hospital admission rates for dehydration.
Part of the problem is that the sense of thirst diminishes with age. "Older people don't sense thirst as fast as when they were younger, and by the time they do feel thirsty, they are probably already quite dehydrated," says Dr. Howard LeWine, assistant professor of medicine at Harvard Medical School and Editor-in-Chief of Harvard Men's Health Watch.
Watering your health
Drinking enough water is crucial for many reasons. It helps deliver nutrients to cells, regulates body temperature and blood pressure, lubricates joints, prevents infections, and keeps organs functioning correctly. Water also keeps food moving through your digestive tract and supports kidney health.
On the other side, prolonged dehydration raises the risk of certain conditions like urinary tract infections, kidney stones, and constipation.
Dehydration also affects brain health. A study published online Nov. 27, 2019, by the European Journal of Nutrition found dehydration weakens cognitive skills like sustained attention and working memory.
The National Academy of Medicine suggests healthy men consume 13 cups of fluid per day, not all of which needs to be water or even liquids; many foods contain a significant amount of water.
Drinking a bit more or less day to day is not a problem because your kidneys do a great job of keeping your body's water balance where it should be. There are times when you need extra fluids, like when you sweat from exercise or in hot weather, or when you lose bodily fluids from vomiting or diarrhea.
The color of hydration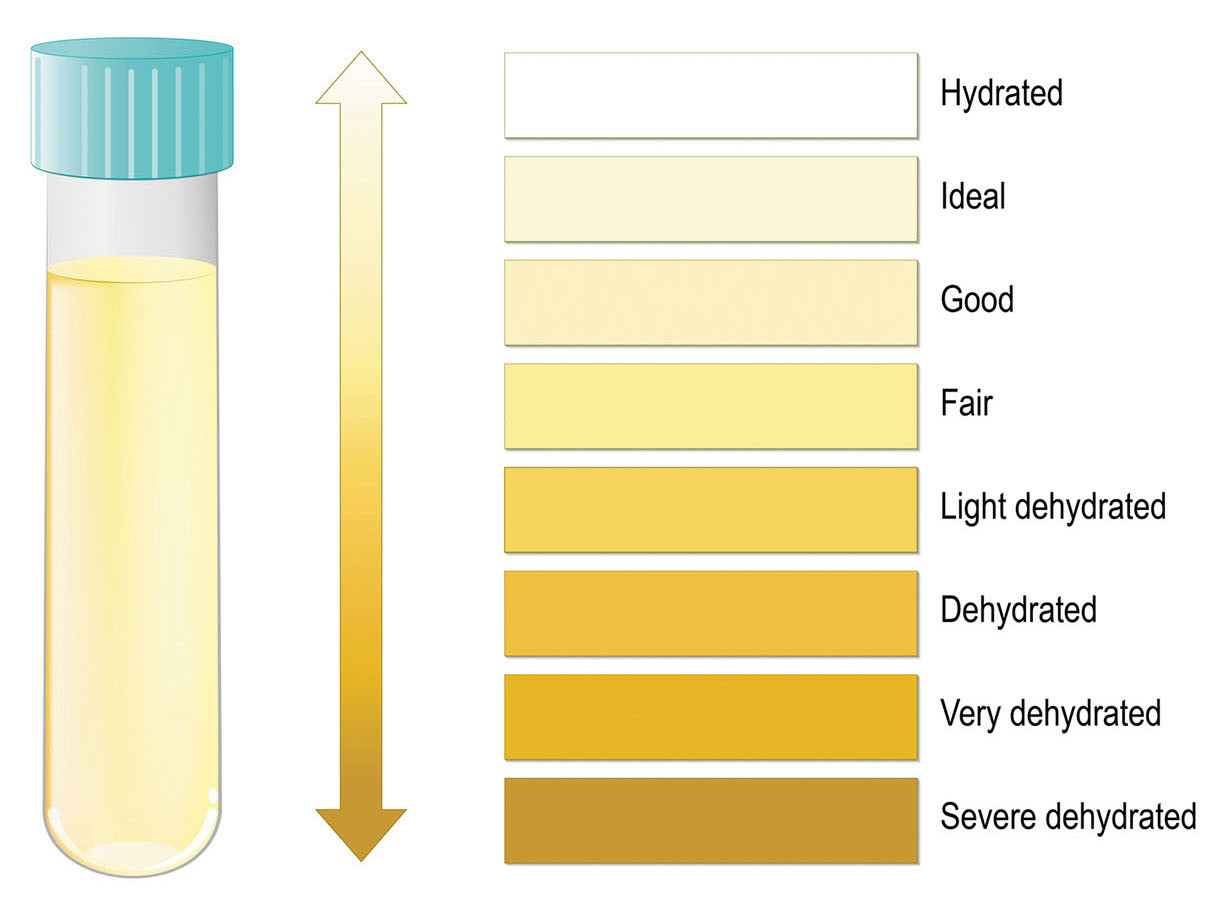 Urine color is a simple way to monitor water intake. When you're hydrated, your urine should be between clear and the color of light straw. A darker yellow or amber color is a sign you need to drink more water.
Going to the well
Besides lack of thirst, adults are prone to dehydration because they simply forget to drink enough water.
"One way to overcome this is to make drinking water part of your daily routine," says Dr. LeWine. "Start your day with a glass of water and drink with every meal."
If plain water turns off your taste buds, boost its appeal with flavorful slices of lemon, lime, orange, or cucumber, or add some mint, berries, or ginger.
Another way to stay mindful about hydration is to drink from a water bottle, aiming to empty it once or twice a day. The right temperature also may help increase intake. Research suggests that people tend to drink more water when it's served at room temperature.
Water is not the only way to stay hydrated. "All beverages containing water contribute toward your daily needs," says Dr. LeWine.
This includes coffee, tea, and juice. (For regular coffee or tea drinkers, caffeine does not make your kidneys lose water, but you may want to watch your intake if too much makes you jittery.)
Unsweetened carbonated water is fine; however, avoid sweetened beverages, energy drinks, sports drinks, and so-called vitamin waters as your primary fluid sources, as they can be high in sugar. Beer and wine don't count because they can have a diuretic effect, so you can lose as much or more fluid as you take in.
Food also counts toward your daily quota. In fact, about 20% of people's total daily water intake comes from water-rich foods.
Try to add more of them to your diet, like cucumber, iceberg and romaine lettuce, tomatoes, zucchini, spinach, strawberries, and melons.
Bible verses for today's meditation and inspiration: Matthew E. McLaren
A person finds joy in giving an apt reply— and how good is a timely word! Proverbs 15:23 NIV
That is why, for Christ's sake, I delight in weaknesses, in insults, in hardships, in persecutions, in difficulties. For when I am weak, then I am strong. 2 Corinthians 12:10 NIV
Rejoice with those who rejoice; mourn with those who mourn. Romans 12:15 NIV
You are my hiding place; you will protect me from trouble and surround me with songs of deliverance. Psalm 32:7 NIV
So that I may come to you with joy, by God's will, and in your company be refreshed. Romans 15:32 NIV
Your statutes are my heritage forever; they are the joy of my heart. Psalm 119:111 NIV
But godliness with contentment is great gain. 1 Timothy 6:6 NIV
And without faith it is impossible to please God, because anyone who comes to him must believe that he exists and that he rewards those who earnestly seek him. Hebrews 11:6 NIV
For the Lord takes delight in his people; he crowns the humble with victory. Psalm 149:4 NIV
Command those who are rich in this present world not to be arrogant nor to put their hope in wealth, which is so uncertain, but to put their hope in God, who richly provides us with everything for our enjoyment. 1 Timothy 6:17 NIV
The father of a righteous child has great joy; a man who fathers a wise son rejoices in him. Proverbs 23:24 NIV
I rejoice in following your statutes as one rejoices in great riches. Psalm 119:14 NIV
While he was still speaking, a bright cloud covered them, and a voice from the cloud said, "This is my Son, whom I love; with him I am well pleased. Listen to him!" Matthew 17:5 NIV
Recommended contacts for prayer request and Bible study
https://www.hopechannel.com/au/learn/courses
https://3abn.org/all-streams/3abn.html
http://www.nadadventist.org/article/15/contact-us
https://www.adventist.org/en/utility/contact/