About one person in four has an often-symptomless condition marked by a buildup of fat inside the liver, called nonalcoholic fatty liver disease (NAFLD). Like diabetes, this metabolic disorder is closely linked to obesity, especially excess weight around the middle of the body.
The strongest predictor of fatty liver disease is having type 2 diabetes, and both diseases are closely linked to cardiovascular disease. But obesity usually underlies and connects all these problems together, says Dr. Michelle Lai, a hepatologist at Harvard-affiliated Beth Israel Deaconess Medical Center.
"When you gain weight, the resulting stress on your body causes your metabolism to go haywire, and your blood pressure, blood sugar, and cholesterol start to rise," she says. All these conditions — along with more fat around your abdominal organs — often occur together, creating what's known as metabolic syndrome. Diabetes and NAFLD are part of metabolic syndrome, which is often a harbinger of heart disease.
However, some people who aren't overweight still develop NAFLD, especially those of Asian and Hispanic descent. They may appear naturally slim, but after years of following a typical American diet, they accumulate abdominal fat and develop metabolic syndrome, says Dr. Lai. Even if their body mass index falls into a normal range (see /bmi for a calculator), they may have an elevated waist circumference. These people can improve their liver health by losing weight, she adds.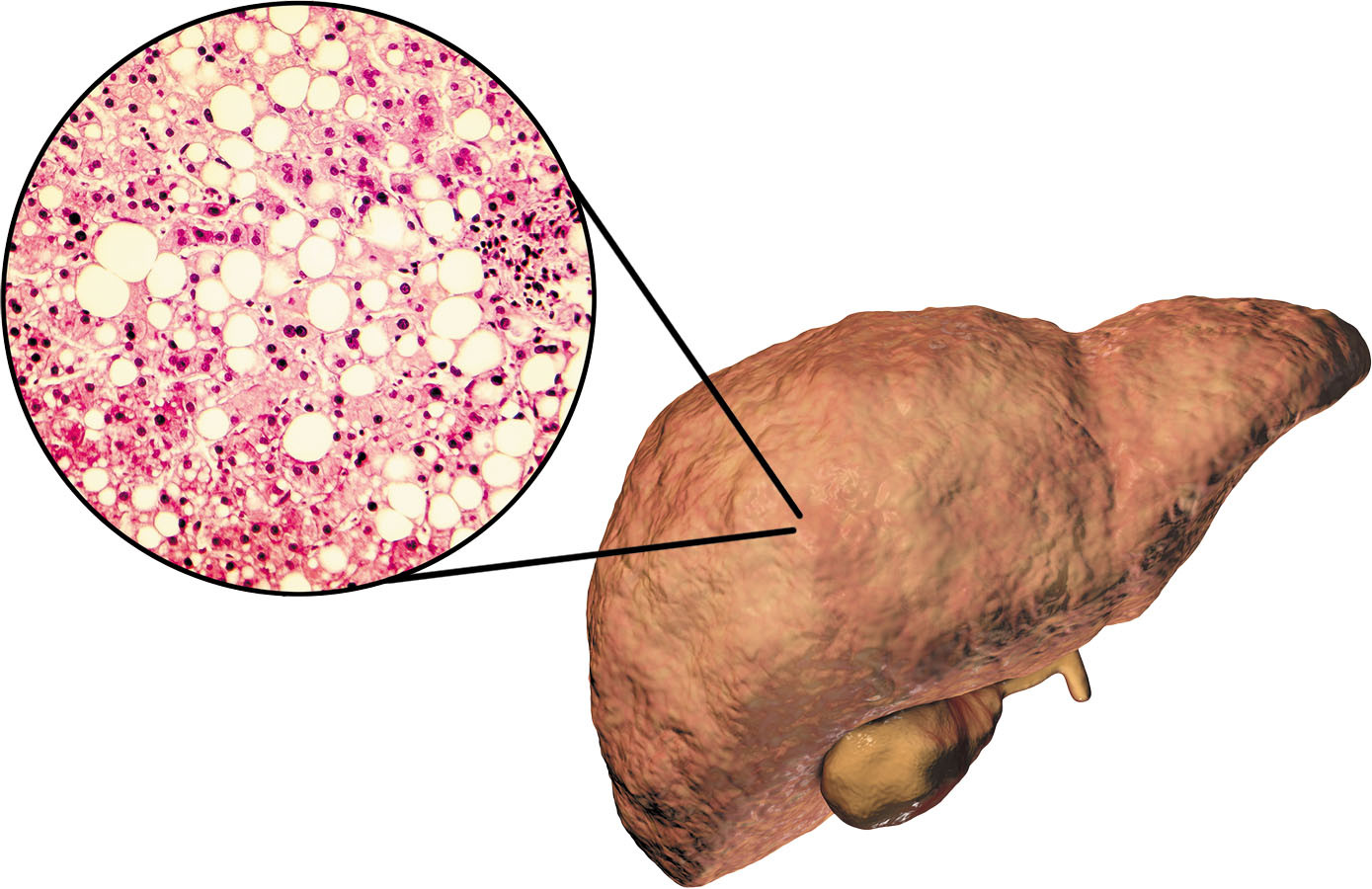 Fatty liver disease (a buildup of fat inside the liver) is closely linked to heart-related risks.
NAFLD is distinct from alcoholic fatty liver disease, which is caused by long-term heavy drinking and affects about 5% of adults in the United States. NAFLD, which is also referred to as simple fatty liver, usually doesn't cause any symptoms. It's typically discovered by chance during an imaging test (such as an abdominal ultrasound, MRI, or CT scan) done for another reason. Sometimes, blood tests reveal slightly elevated liver enzymes, but many people with NAFLD have normal liver function. Doctors can usually make the diagnosis based on the person's medical history and imaging tests.
About a third of people with NAFLD have nonalcoholic steatohepatitis (NASH), in which the liver cells are inflamed and injured. This process may create scar tissue, which can eventually replace normal liver cells and lead to a condition called cirrhosis. An enhanced type of imaging known as elastography uses sound waves to measure the stiffness of the liver, a surrogate marker for scar tissue. If the test reveals signs of scarring, doctors typically perform a liver biopsy to determine the presence of cirrhosis. Cirrhosis from NASH increases the risk of liver cancer, which is often deadly.
Reversing NAFLD
People with NAFLD can slow or even reverse the condition with the same lifestyle strategies that improve cardiovascular health: losing weight, adopting a healthy diet, and exercising regularly.
Dr. Lai encourages tells her patients to avoid fad diets and to instead gradually change how they eat. "My main advice is to avoid sugar, especially sweetened beverages that contain high-fructose corn syrup, since we know that too much fructose can inflame the liver," she says. Although there's some controversy about whether wine might be okay for people with NAFLD, she recommends avoiding alcohol or drinking only occasionally, if desired. Some evidence suggests coffee may benefit people with fatty liver disease. Just be sure not to add sugar or those flavored, sweetened syrups popular in specialty coffee drinks, says Dr. Lai. A Mediterranean-style eating pattern that emphasizes fruits, vegetables, whole grains, lean meats, and healthy fats is a good idea.
Getting regular exercise (even without weight loss) can boost your metabolism and help reverse metabolic syndrome. Several studies suggest that both aerobic and strength training may improve fatty liver disease as well.
Investigators are working to develop drugs to help reverse NAFLD. But to date, there are no FDA-approved medications to treat fatty liver disease. Dr. Lai's patients often ask her about milk thistle, a dietary supplement widely touted as improving liver health. However, a 2019 study comparing a placebo to various concentrations of a highly purified version of milk thistle in people with NASH showed no benefit from the supplement, says Dr. Lai.
Bible verses for today's meditation and inspiration: Matthew E. McLaren
Yours, Lord, is the greatness and the power and the glory and the majesty and the splendor, for everything in heaven and earth is yours. Yours, Lord, is the kingdom; you are exalted as head over all. 1 Chronicles 29:11 NIV
Love the Lord your God with all your heart and with all your soul and with all your mind and with all your strength. Mark 12:30 NIV
Now to him who is able to do immeasurably more than all we ask or imagine, according to his power that is at work within us, to him be glory in the church and in Christ Jesus throughout all generations, for ever and ever! Amen. Ephesians 3:20-21 NIV
So he said to me, "This is the word of the Lord to Zerubbabel: 'Not by might nor by power, but by my Spirit,' says the Lord Almighty." Zechariah 4:6 NIV
For the message of the cross is foolishness to those who are perishing, but to us who are being saved it is the power of God. 1 Corinthians 1:18 NIV
For who is God besides the Lord? And who is the Rock except our God? Psalm 18:31 NIV
It was not by their sword that they won the land, nor did their arm bring them victory; it was your right hand, your arm, and the light of your face, for you loved them. Psalm 44:3 NIV
For since the creation of the world God's invisible qualities—his eternal power and divine nature—have been clearly seen, being understood from what has been made, so that people are without excuse. Romans 1:20 NIV
For in Christ all the fullness of the Deity lives in bodily form, and in Christ you have been brought to fullness. He is the head over every power and authority. Colossians 2:9-10 NIV
Recommended contacts for prayer request and Bible study
https://www.hopechannel.com/au/learn/courses
https://3abn.org/all-streams/3abn.html
http://www.nadadventist.org/article/15/contact-us
https://www.adventist.org/en/utility/contact/